One would think that there is a HUGE difference between this tactical style, Military Specific .300 Win Mag rifle and a typical off of the shelf hunting rifle; and well, there is.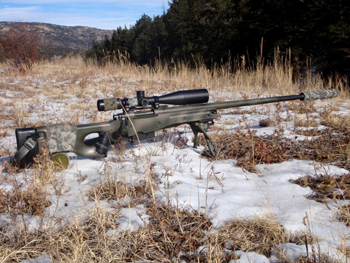 .300 Win Mag built by Jim Hoag of Canoga Park, California.
This tactical rifle is chambered for the .300 Win Mag and sports a military "Accuracy International" stock, a heavy 28.125" long precision made barrel that mates up to a blueprinted Remington 700 action. At 19 lbs, this may be heavy to some, however it is considered to be a "mid-weight" rifle. To quote Sergeant First Class Michael LaBonte of the U.S. Army, "The Soldiers in Iraq and Afghanistan carry some weapon systems that can weigh almost thirty pounds, and they do it while wearing their body armor and carrying all of their other battle rattle."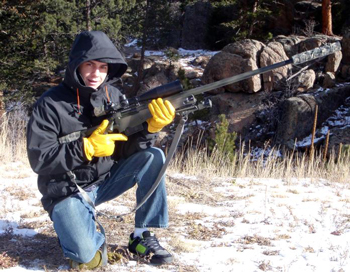 OEF Veteran, Par-Troop and my #4 son visiting for the Christmas holidays.
Still, the average hunter cannot imagine owning or carrying this type of rifle. I found this out when I began instructing precision shooting classes for hunters here in Colorado. When introducing them to my rifles, the looks on their faces said it all: "Too big, too heavy, and cannot relate." When several friends of mine showed up to spend time shooting with me who were "huntin' fools", they didn't quite know how to say, "Ward, no serious hunter would ever carry a big heavy rifle like that." He also suggested that perhaps I should buy myself a "hunting" rifle that the students could relate to, so I did. But more on that later…
This tactical rifle, chambered in .300 win mag, is as accurate as a rifle can get, and in fact will shoot one small hole with the 210 grain Berger VLD bullets at 100 meters. However what makes it so accurate are the top drawer components that were utilized in its build and the time spent working up an accurate load. The solid Accuracy International stock has a one piece aluminum block that runs from front to back. The trigger is made by "Jewel;" and is one of the finest triggers one can own. Not necessarily as rugged as a combat trigger, although very dependable. Most often seen on bench-rest rifles, certain Jewel triggers may be adjusted down to as little as 1 oz. Mine is set at 3 lbs. and will not negligently fire even if the rifle is accidentally dropped. On most if not all active military rifles, the triggers are set at 8 – 12 lbs. On top of the receiver is a "Picatinny" rail that the scope rings attach to, with an "Angle Cosine Indicator" and a Night Force 3.5 – 15 X 50mm MLR Scope mounted onto that.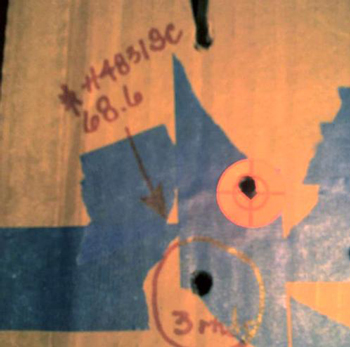 Berger bullets are an excellent hunting bullet, and as you can see, extremely accurate.
Speaking of hunting with this type of rifle, I once went on a pig hunt in Paso Robles, California; my guide was a fellow by the name of Tom Willoughby. Now, Mr. Willoughby, who happens to be an excellent guide and a killing machine, sneered at my "Tactical" 6.5 X 284 that I brought out that had a Night Force 5.5 – 22 X 50mm mounted on-top of it. I was going to change the scope out to my Night Force 2.5 – 10X. However it was shooting so well that I decided to leave the 5.5 – 22 on it. While riding in his hunting vehicle and driving over the open rolling hills of California, he stated that I shouldn't have brought a target rifle on a pig hunt. I responded by stating, "If a rifle doesn't shoot well, what's the use of bringing it along at all?" I felt somewhat judged by Tom, and so I added, "I'll bet you $500.00 that IF you put me on a pig, that I'll shoot it behind its ear." He didn't say too much after that, and when he did get me on the pig, (which was maybe, and I mean maybe 200 yards out), I shot him right behind his left ear.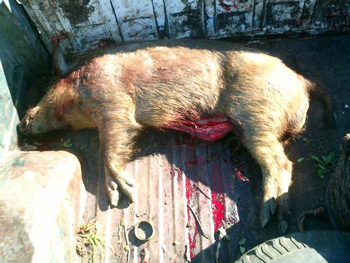 This "Tactical" rifle was built by Mr. History himself, Jim Hoag of Canoga Park, California. Better known for his 1911's, he is one heck of a good rifle maker and has built most of my tacticals.
Typical hunting rifles can be good shooters too. Take for instance my friend Jim McBride, who has been hunting for approximately 55+ years. He owns a Model 70 Winchester that was built and purchased in 1949 by his father. It is chambered in .270 and shoots .25 MOA at 100 yards with factory Winchester ammunition. However, when he first showed me his rifle, it didn't shoot that well, with 2"+ being the normal group size. To make a long story short, I told him that his scope was bad and to replace it with a Night Force. He felt that the Night Force was a little more than he wanted to spend, and so he purchased a scope made by IOR Valdada that had a Miliradian "MP8" reticle in it. Once installed on his model 70, his groups tightened up to approximately -½ inch at 100 yards. Jim was ecstatic, and we then took it on an antelope hunt where he did indeed shoot one at about 260 yards. This year he shot one at 387 yards, resting the rifle on top of a Stony Point shooting stick. He has developed an interest in long range hunting and now utilizes NF Ballistic Targeting Software and some other technical tools. Jim is also proof that you really can teach an old dog new tricks.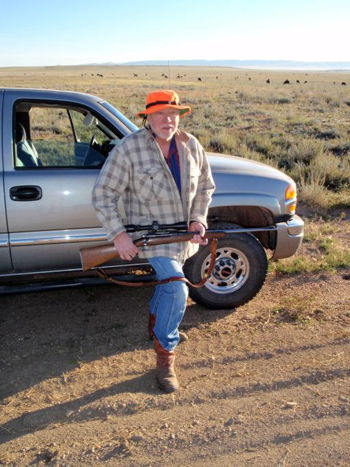 Jim McBride with his "handed down" 1949 Winchester Mod 70
These distances may appear to be long shots, and to most hunters they are. Although once the hunter has his rifle dialed in, and owns professional equipment, it is only a matter of time before their confidence and skill level rises. With the realization that math is math, and science is science, their shots (your shots) will be made at longer distances.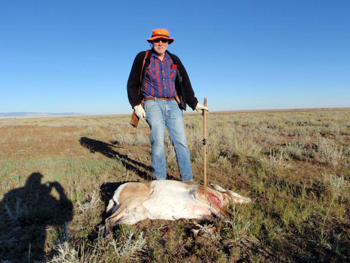 Jim shot this antelope at 387 yards.
His Winchester Model 70 is a good example of an off the shelf shooter, that shoots. However, most off the shelf rifles do not have the technical specifications that lend them to shoot well. Most do not have bedded actions, or stress relieved well made barrels, or lighter, crisp triggers. Barring certain rifle manufacturers, these types of rifles are for the hunter that will not shoot further than 200 – 300 yards. However, to the new generation of hunters, those who have incorporated Pocket PC's loaded with Night Force Ballistic Targeting Software onto them, Kestrel hand held pocket weather stations and laser range finders, the need for a professional, "Custom" built rifle has become an object of strong desire.
Custom built rifles are something to look at very carefully. This is because there are many gunsmiths who are merely parts assemblers who claim to be rifle makers.
So, when it came time for me to purchase a "hunting rifle," I wanted it to be a "Custom." Not one with fancy engraving or gold inlay, but a rifle that would fill the bill of being able to take punishment and that was also typically tactical. Hence I approached a gun smith, and after some discussion, he told me that he knew exactly what to build me and not to worry. Four months later, my new "Tactical Hunter" arrived.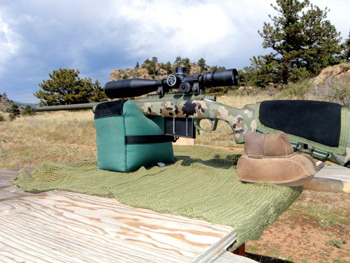 When it arrived, I was very pleased. The stock is manufactured by McMillan and is their HTG Edge model. The bottom metal and detachable five round magazine is manufactured by Badger Ordnance.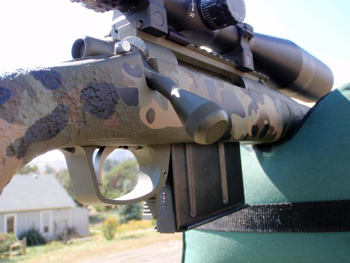 The bottom metal/trigger guard is large, and supplies ample room for any gloved finger. This trigger also happens to be a Jewel, and the action is manufactured by Phoenix Machine, located in Montana.
This rifle is balanced, (weighted) and exceptionally accurate, making it a dream to shoot. However, getting the accuracy was way more work than I expected, which is why I am not mentioning the name of the gunsmith. You see, with the hunting season quickly approaching, the gunsmith was short on time. As such, the wonderful green coating that you see here is the well respected Cera-Coat, which is a ceramic coating used on firearms. However, the fellow that normally does his Cera-Coating was backed up for several months. For this reason he sent the rifle out to another Cera-Coater. That Cera-Coater over-coated everything: the interior of the muzzle break, the barrel, the recoil lug, the interior of the receiver, the bolt; really everything. It was a disaster and a tremendous disappointment. The interior of the muzzle break was reduced from .327" to .311". With the bore size of the barrel being .308" the hole of the muzzle break was only .002" over bore, causing the bullet to scrape the inside of it on its way out. (So much for accuracy).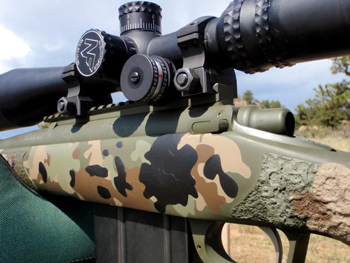 Here you can see that the gunsmith applied a cool nonslip grip material to both the grip area of the stock as well as the fore-end. The scope sitting on top of the Picatinny rail is a 3.5 – 15 X 50mm Night Force.
The barrel and recoil lug was also over-coated, causing the barrel to touch the barrel channel and the recoil lug recess channel to be too tight in the wrong places. So, the barrel channel and the recoil lug recess had to be opened up. Not only that, but the exterior diameter of the bolt area in front of the bolt lugs was reduced to properly fit the receiver, creating a step in the bolt. The Cera-coating magnified that step and caused the bolt to stick when pulled completely to the rear. Because of this, the step had to be feathered out and the Cera-coating removed. It was a terrible lesson learned and one that the gunsmith is still inside out about. This gunsmith would normally sell this rifle for $4,500.00, which at that price should have never showed up to me like this. Although no one expected the unexpected, the gunsmith's name is on the rifle, and he blew it when he failed to check and verify the Cera-Coater's work. When I received it, it looked awesome; it was a beautifully handcrafted piece of art, and I expected it to shoot sub 1/4 MOA. However, I was blinded by its beauty, and to say that working up a load was challenging would have been an understatement; I could have broken this rifle in half on more than one occasion!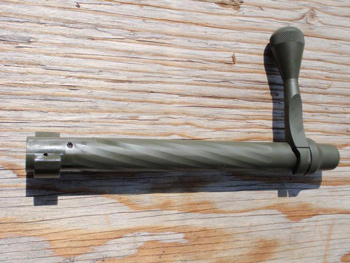 Finally, I was able to work through the issues, and now have it shooting as good as it looks. Unfortunately I didn't get an elk this year with it. With the temps running in the 50's, there wasn't enough snow on the mountains to drive the elk down to the lower ground where I was hunting, and with the moon full, they fed most of the night and stayed bedded down during the day. Because of this, I went home empty handed. However, with the rifle now shooting like a dream (a good one), I did manage to take a 5 X 4 Buck that was one jump away from another private property! This would mean that if he had jumped over the wire and onto the private property, I would not have been able to take the shot. So, to make a long story short, he was approximately 200 meters out and down from me on a 30 degree angle. I dialed in 3 clicks of elevation and with light snow falling, held on the back of his head. Touching off the trigger, he instantly fell. I won't be mounting this one. However, on the good side, there wasn't any loss of meat.
This gun does shoot an honest sub .25 MOA using 185 grain Berger Bullets, with 72.4 grains of H4831SC in prepped Norma Brass with Federal 215M primers. The Bergers are seated so they are just barely touching the lands and are moving downrange at 3,129 FPS.
The rifle weighs in at 12.4 lbs., not a lightweight by a "professional hunter's" standards, but not a heavy gun either. I am very pleased with this rifle and find it to be a fantastic compromise between a true heavy tactical and a light-weight. It is a "Tactical Hunter".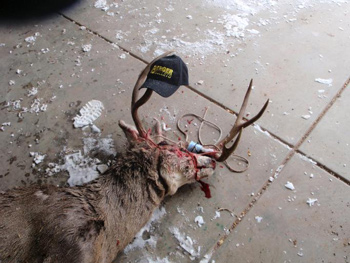 Contacts
Night Force
Lightforce USA, Inc.
1040 Hazen Lane
Orofino, ID 83544
Ph: (208) 476-9814
Fax: (208) 476-9817
E-mail: info@nightforceoptics.com
Badger Ordnance
1141 Swift St.
N. Kansas City, MO 64116
Ph: (816) 421-4956
Fax: (816) 421-4958
E-mail: info@badgerordnance.com
Sniper Tools Design Co.
P.O. Box 1647
Estes Park, CO
Ph: (818) 359-0512
Fax: (970) 586-9281
E-mail: info@snipertools.com
Phoenix Machine
36 Jellison Lane, Suite B
Columbia Falls, MT 59912
Ph: (406) 756-2727
E-mail: lisa@boltactions.net
Berger Bullets
4275 N. Palm Street
Fullerton, CA 92835
Ph: (714) 447-5456
Fax: (714) 447-5478
E-mail: tom.hime@bergerbullets.com
McMillan Stocks, Inc
1638 W. Knudsen Dr., Suite 101
Phoenix, AZ 85027 USA
Ph: (623) 582-9635
Fax: (623) 581-3825
Hours: M-F 7:00 – 3:30 PM MST
E-mail: stocks@mcmillanusa.com
Accuracy International
Tac Pro Shooting Center
35100 North State Hwy
Mingus, Texas 76463
Ph: (254) 968-3112
Fax: (254) 968-5857
Email@tacproshootingcenter.com
Website: tacproshootingcenter.com
NIC Industries, Cerakote
7050 6th Street,
White City, OR 97503
Ph: (541) 826-1922
Orders: (866) 774-7628
Fax: (541) 826-6372
Email: info@nicindustries.com
Website: nicindustries.com/firearm_coatings.php
Hoag Gunworks
8523 Canoga Ave., Unit C
Canoga Park, California 91304
(818) 998-1510
Silencer ~ TBAC Corp.
Cheyenne, Wyoming
(307) 287-2052